Discovering the Possibilities: A Stay-at-Home Mom's Story (Part 1 of 3)
Glenda McGillivray is a stay-at-home mom in Saskatoon. She has three young children (and two adult daughters who now live on their own). When her thirteen-year-old daughter, Joy, began struggling in grade seven, Glenda and her husband decided it was time to explore other learning options. In the spring of 2016, they enrolled Joy in the Flex ED program.
Here's what Glenda had to say about their Flex ED experience.
Before Flex ED…
We learned about Flex ED in 2015 through family friends who had put their daughter in the program. They talked about it all year, and had nothing but high praise and regard for it. At that point, we had never considered pulling Joy out of a traditional school setting, but as Joy's grade seven year unfolded, it became increasingly difficult for her, both academically and socially. She was stressed out, and school was nothing but a big negative for her. Because of this, my husband and I started thinking we needed to look at something different for grade eight.
After Flex ED…
This year, Joy is a whole new kid. Her whole attitude and work ethic has changed. She cares about doing well and pleasing her teachers, and she's working harder than she's ever worked.
On the Program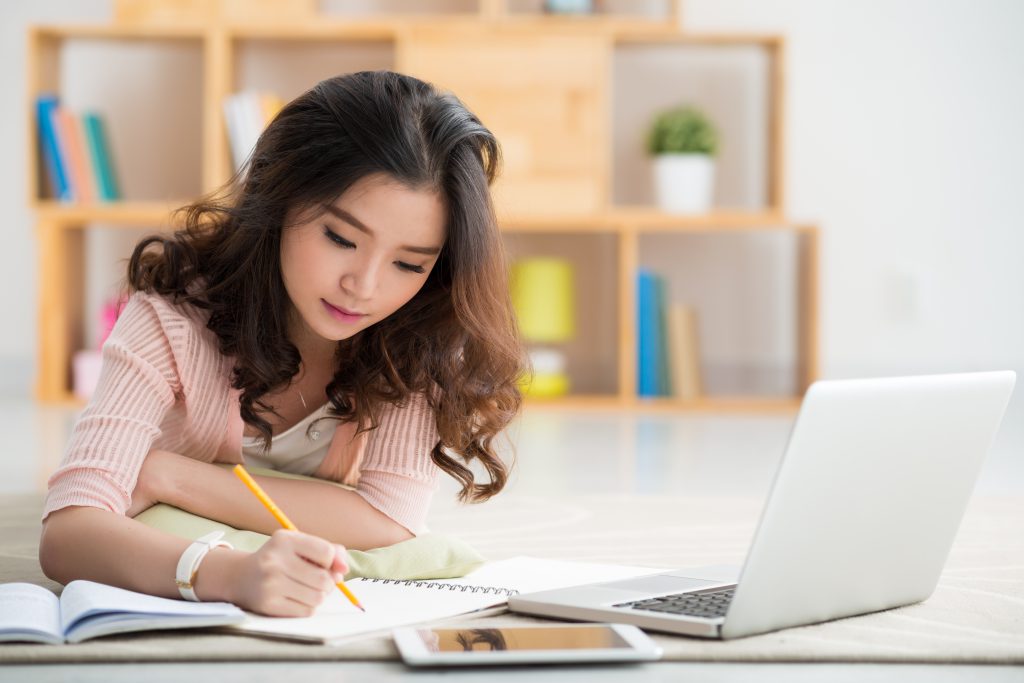 This program is academically rigorous. My husband and I were actually rather surprised by the standard, but at the same time we were thrilled.
Because Joy has some learning challenges, we support her academically and always have. With Flex ED, we now have access to her curriculum and don't have to track down her lessons through teachers at school. We have direct access to everything. This has made our job at home so much easier.
Plus, the teachers actually care about things that, in my opinion, have been lost in the public school system.
On Assumptions
People often assume that because Joy is taking classes online, she has no support and no contact. The truth is, Joy is better supported and encouraged now than when she was in public school. Not only that, her teachers have a much more accurate pulse for where Joy is at—where her strengths are, when to challenge her, and when to encourage her. They're way more accessible than Joy's teachers were in the public school system.
Overall, the communication has been fantastic, from the moment we contacted Flex ED through registering Joy in June 2016. The staff is so incredibly supportive and encouraging, and they handle things in a timely manner.
On Results
Thanks to Flex ED, Joy is finally feeling good about her abilities. I have nothing but praise and respect for Flex ED now, too. I really can't say enough good things about them. I wish we had found this program sooner. If we had enrolled Joy earlier, her grade seven year could have been very different. But, we're here now. Our plan is to keep Joy in Flex ED's program through high school. She has made that decision herself, and we are fully supportive of it.
About Flex
Flex ED offers a unique education alternative that embraces a "school without walls" approach to learning. The program is flexible to meet the growing needs of students and their families in the greater global community. Flex ED's empowerment model for teaching and learning is on the cutting edge of educational trends, upholding the philosophy that school occurs wherever learning takes place. Through technology, social media, and teacher support, students learn and grow in a safe, supportive online environment.
Flex ED provides the complete Saskatchewan curriculum of education, supervised and marked by a Saskatchewan certified teacher. Whether students are looking for an online school or need help supplementing a homeschool curriculum, Flex ED can help to facilitate those needs. Learn more at: https://www.flexed.ca.